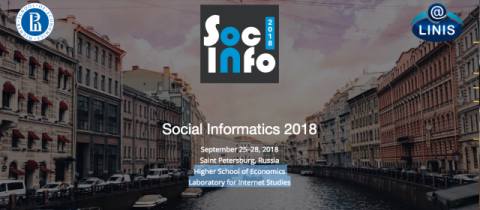 Rob Ackland presented VOSON Lab research at the 10th International Conference on Social Informatics (SocInfo 2018). During the workshop "Big data analysis for Social Scientists", VOSON Dashboard- the most recent tool designed and developed in the Lab- was launched. The findings of the research "Exploring the Behaviour of SocialBots in Political Conversations on Twitter" (joint work with Florian Muhle, University of Bielefeld), were presented in poster session.
As part of his visit to Russia, Rob Ackland also ran a guest lecture: "Mapping conversations and the spread of information on Twitter" to Master students at the National Research University Higher School of Economics.
SocInfo is an international conference that brings together interdisciplinary researchers from Computer Science, Informatics, Social Sciences and Management Sciences to share ideas and opinions, and present original research work on studying the interplay between socially-centric platforms and social phenomena.
The conference was held on September 25–28, 2018, in Saint Petersburg, Russia. Proceedings are available via SocInfo website.