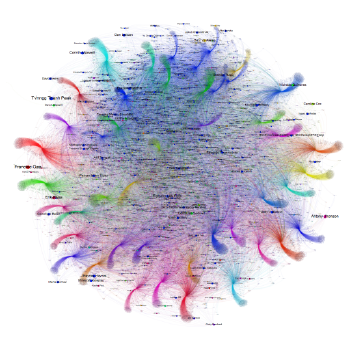 vosonSML R package
Download vosonSML from CRAN  and github (development version).
Note: vosonSML is the new name for the R package that was previously called SocialMediaLab. Some of the materials below refer to the old package name.
vosonSML is an R package that provides a suite of tools for collecting and constructing networks from social media data. It provides easy-to-use functions for collecting data across popular platforms (*Facebook, Twitter, and YouTube) and generating different types of networks for analysis.
vosonSML was originally created by Tim Graham and Robert Ackland. Major contributions have been made by Bryan Gertzel (who is also the maintainer of the package) and Chung-hong Chan.
Important!
Facebook collection in vosonSML is broken, due to changes in the API
(v2.11)
which came into effect in February 2018. It is not possible to collect data on likes or comments on posts on Facebook pages, unless the API access token is created by the page's owner.

The package can be found on CRAN  and the development version is available on github.
Note that due to Instagram API changes effective 1 June 2016, vosonSML can no longer provide access to Instagram data.
The present page provides some R scripts to help get you started using vosonSML and also information on associated training workshops and obtaining API access (*Facebook, Twitter, YouTube).
General Information
R helper script and tutorials
More information
Training workshops using vosonSML
Visit this page containing previous training workshops on network and text analysis involving the use of vosonSML and other R packages.
Obtaining API access (Twitter, *Facebook and Youtube)
This page provides some information on how to get API credentials for Twitter, Facebook and Youtube.