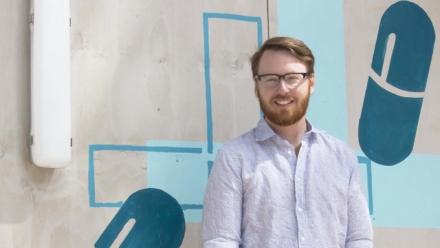 (Via CASS, ANU. Find original article HERE). Anti-vaccination groups on Facebook exhibit 'small world' characteristics, feature mostly women members, and are durable networks which use emotive language that makes it hard for parents to critically evaluate health information, new research co-authored by an ANU scholar has found.
Dr Tim Graham from the School of Sociology and Dr Naomi Smith of Federation University examined six anti-vaccination groups in Australia and the United States, then used ANU-made software to analyse the data. Since the report was published in the journal Information, Communication & Society, it has struck an international chord. Media outlets including The Washington Post have reported on their paper, while Chelsea Clinton retweeted it to her 2.1m followers. It's also appeared on the global front page of Reddit, where it generated more than 344,000 views.
Dr Graham, a Postdoctoral Research Fellow with a joint appointment in the Research School of Social Sciences and the Research School of Computer Science, explains his and Dr Smith's research.
Why did you and Dr Smith decide to research anti-vaccination groups on Facebook?
Over the past couple of years I have been developing new software and methods for studying online networks with Robert Ackland in the VOSON Lab (School of Sociology), and I was looking for opportunities to 'road test' it on socially important topics for research. My co-author, Dr Naomi Smith, suggested the idea to study anti-vaccination sentiment on Facebook, given its relevance as a global health and social issue and the lack of research on anti-vaccination communities on Facebook.
Where there any surprising things that you encountered during your research?
There were several surprising outcomes. Firstly, our findings suggest a pronounced gender imbalance for anti-vaccination communities on Facebook -- on average the ratio of men to women is 1:3 -- and it is even more imbalanced amongst the most active users. This is not information that Facebook provides, so we used some fancy data science techniques to estimate (a binary notion of) gender by extracting the first names of users and matching these against historical census data. To our knowledge, no other studies have confirmed the gender bias in the anti-vaccination movement to this extent before.
Secondly, although anti-vaccinations on Facebook are quite large and relatively active, they are markedly different to 'offline' anti-vaccination networks: they don't function as close-knit communities of support with participants interacting with each other in a sustained way over time. At the same time, we found that the co-comment networks (networks of users who have co-commented on a post together) have the signature characteristics of 'small world' networks. This suggests that information diffuses extremely quickly and easily through these networks, in this case via user-generated comments, and helps to explain why anti-vaccination ideas spread so quickly and are so robust to outside influence (e.g. health policy education efforts).
Thirdly, through a topic model analysis of the text comments we were surprised to find that anti-vaccination discourse has remarkably similar themes and structure to conspiracy-style thinking and beliefs.
Given Facebook doesn't share much data, how did you perform the study? For example, creating anonymous accounts to join the anti-vaccination groups?
Although Facebook has effectively locked down access to any personal data (friends networks, timeline updates, etc), it currently shares quite a generous amount of data for public pages. In this way, we were able to collect a large amount of historical data for each anti-vaxxer page, including posts, comments, likes, participant user names, timestamps for activity, and so forth. 
Was there specific software you used/built to crunch the data?
All of the data collection and computational analysis was undertaken using the R programming language. In fact, we used a specific R package called SocialMediaLab, which was proudly built right here at ANU! Robert Ackland and I have been developing this software for the last couple of years. We are excited to see it used for social research using big data.
What do you hope people and Facebook learn from your study?
Overall, we hope that our study contributes fundamental knowledge about 'what is going on' for the anti-vaccination movement on Facebook, given that over a quarter of the world's population are now on the platform. Our study suggests that platforms such as Facebook have an extremely important role for enabling interest groups and social movements to mobilise and grow, which can be both positive and negative. Vaccination is a serious issue today -- a great deal of human suffering and loss of life can be prevented through disease control and eradication. So it is important that Facebook recognises how their platform architecture and algorithms contribute to, foster, and shape real-world social processes such as the anti-vaccination movement. 
Is there anything else about your findings, or yourself as a joint researcher with RSSS and RSCS that you'd like to mention?
The findings of this interdisciplinary study have had a surprising international impact so far, attracting attention and discussion on news and social media. I don't think that it would be possible to undertake this research without the fantastic support that ANU provides for interdisciplinary research, in this case my joint position in RSSS and RSCS. The study involved fairly sophisticated data science techniques combined with qualitative analysis and social theory, and would be much more difficult to achieve within a single disciplinary context. I think it bodes well for the new field of computational social science and hopefully attracts more researchers from different disciplines to study and work at ANU.